Giving back
Sometimes people like to become more involved with a local Charity like Acredale House.
Volunteers are an integral part of the organisation and we recognise the huge contribution that volunteers make.
We would welcome your help and offer a number of opportunities for you to volunteer your time and skills. We ensure that all volunteers are working in a safe and secure environment and receive the appropriate support. In return for your time, skills and enthusiasm we ensure that volunteers undergo induction training and offer access to other training and development opportunities. We pay volunteers out of pocket expenses.
Board of Directors
We are keen to recruit interested individuals from the local community to our Board to steer the future direction of the organisation.
Administration
Assisting the staff team with any administrative duties contributing to to efficient running of Acredale. This may include general office duties, answering the telephone, computer work, photocopying and filing.
Activities Volunteer
Assisting the staff in delivering actives either individually or with a group. We would also welcome volunteers with other skills in hairdressing, manicure, podiatry arts and crafts, music.
Handyperson
Carrying out odd jobs and maintenance.
Gardener
Maintaining the Acredale garden and surrounding seating area.
Driver and Bus Escort
Driving the Centre's minibus to collect people from their homes in the morning and return them safely in the afternoon. Our escorts help ensure passenger safety and comfort.
Interested in volunteering?
Please contact our Manager
I've been volunteering on the Acredale minibus for a wee while now and I enjoy the interaction with the clients.  The staff at the Centre have all been very welcoming and are really friendly.  I enjoy the work immensely.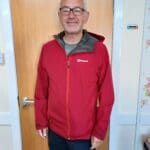 Stephen Firth
Volunteer Bus Escort